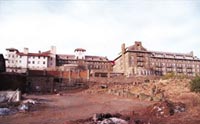 Ghost-hunting groups explore the area's paranormal activity
from the Pocono Record in NE Penn.
"Eastern Pennsylvania Paranormal Investigations has been helping to explain the unexplainable since 2005. The group of 15 investigators is able to answer questions that may have been at one time thought to be unanswerable.
Their purpose is to determine if the activity being reported is of paranormal origin or has a natural explanation. This is a year-round job for them but around Halloween, more people are suddenly interested in what the group has to offer.
Greg Swatt started the ghost-hunting group in November 2005 after working with a group in Panther Valley. "I didn't enjoy the way that group worked so I started my own," Swatt said. "I've always been involved in the paranormal, just not to the extent I am now. I have always had this interest since being a child. I remember reading many books on ghosts growing up."
EPPI covers most of Pennsylvania as well as areas in New Jersey and Maryland. "We will travel if someone needs us," Swatt said"…..
And there is much more to this article.
It also contains a nice list of creepy sightings in one county in NE Pennsylvania.
Care to debunk these tales? Or have tales of you own? Submit them here