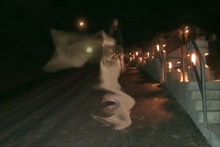 Ghostly road trips
Looking to scare up some fun this month? Consider a day trip to one of these haunted Missouri hot spots. The Rockliffe Mansion in Hannibal, the Lemp Mansion in St. Louis, and even the "Devil's Promenade" - experience the otherworldly side of Missouri from the Columbia Tribune.
More Missouri Paranormal Stories
Dan Terry's New Ghost Book To Debut At Sullivan Art Fair
Sullivan Independent News, MO - Oct 2
His favorite part of book signings is having the opportunity to talk to people about their paranormal experiences. He will also be signing books at .....
Ghost Hunting Workshop
Southeast Missourian, MO - Sep 14, 2008
... Presented by: GREG MYERS & PARANORMAL TASK FORCE Come spend the evening and part of the night in Potosi, Missouri with Greg Myers of Paranormal Task
Care to debunk these tales? Or have tales of your own? Submit them here